Mosiac Awards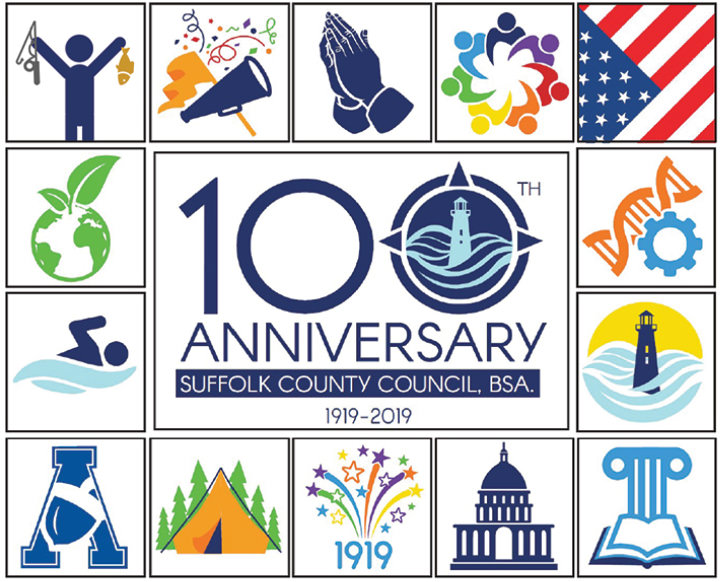 Centennial Mosaic Awards Program Requirements
1: Fishing: Learn how to set a hook, reel and cast a fishing pole, go fishing at a body of water in Suffolk County. Learn about 5 local fish and how to catch them. Or cast a seine net at a body of water in Suffolk County and identify 5 local water life.
2: Attend the Pep Rally on
3: Attend Scouts Sunday on
4: Do a Community Service project in Suffolk County
5: Attend Centennial Parade and Flag Event on (Are these separate events?)
6: Science and Tech: Conduct a science experiment with your den or family or Build a
7: Visit a LI lighthouse
8: Visit a local Historical Society or History Museum
9: Report to Government: Meet one or more of your local officials and discuss their role in our community and what they did to get to their position.
10: 1919: Learn about BSA history and importance. Visit the SCCBSA website and learn about BSA History and share it with your den/pack/troop.
11: Attend the 100th Camporee
12: Boy Scouts Alumni and Friends: Interview one or more BSA Alumni about their experience in scouting or invite a friend to a BSA event.
13: Water Sport: Participate in any water sport in Suffolk County. Including swimming, kayaking, canoeing, paddleboarding, wind surfing, water skiing, knee boarding, surfing, snorkeling and scuba diving.
14: Environmental Awareness: Go for a hike at a park in Suffolk County and identify 5 local flora or fauna. While on the hike follow the outdoor code.
Centennial Mosaic Awards Program available to all youth and adults.
Scout Leaders can purchase mosiac patch sets from the council office with distribution on the honor system.