Sagtikos Sasquatch Hike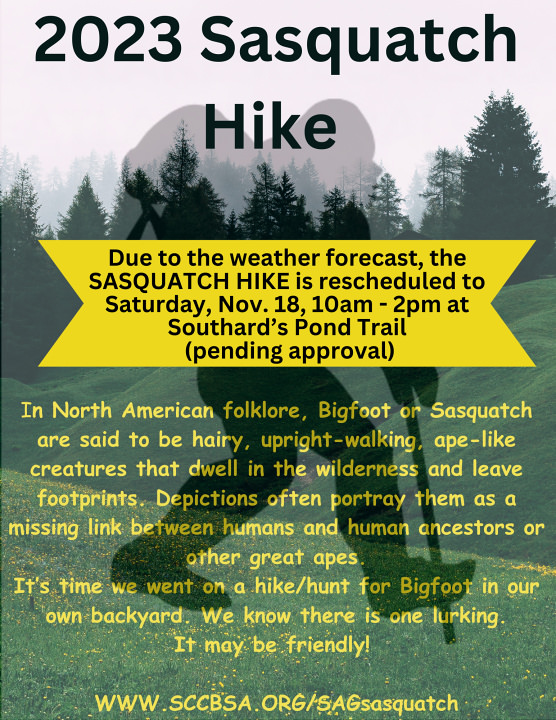 Date/Time:
Nov 18, 2023 10:00 am to 2:00 pm
Location:
Southard's Pond Trail
Park Ave.
Babylon Village, NY 11702

Location: Southard's Pond Trail, Park Ave., Babylon Village

Cost: $5 per child
The Southard's Pond Trail begins at the tennis courts on the north side of Park Avenue in Babylon Village. As you continue on the path, you will hike through the tunnel where Sunrise Highway is above you. Continuing north, the trail covers a long, secluded wooded stretch before going underneath Southern State Parkway and its service road. Belmont Lake appears as you exit the tunnel. When your Pack or Den arrives at Belmont Lake State Park you are free to do whatever you choose, maybe a den meeting or lunch? Plan to provide your own adult coverage. Provide a roster at the beginning of the hike. Distance from Park Ave to Belmont 2.81 miles plus distance around lake 6 miles*.
Scouts BSA members that wish to walk with us can use this for hiking merit badge.
What are the Cub Scout Six Essentials?
These are items every Cub Scout should carry in his personal gear when going on hikes or campouts
First-aid kit

: adhesive bandages, moleskin, gauze, antibiotic ointment, etc.

Water bottle

: filled and large enough to last until it can be filled again

Flashlight

: for emergency use only

Trail food

: can be made as a den activity prior to hike or campout

Sun protection

: sunscreen of SPF 30 or greater and a hat

Whistle

: for emergency use only
(We will not supply food or drinks.)
The hunt for Sasquatch is on!