Calverton Flag Placement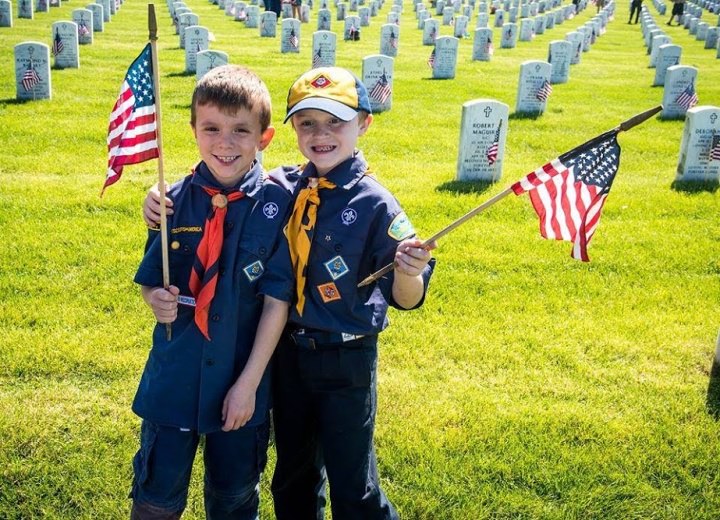 Date:
May 25, 2019
Location:
Calverton Flag Placement
210 Princeton Boulevard
Calverton, NY 11933
Location Phone: (631) 732-4529

The 25th ANNIVERSARY CALVERTON NATIONAL CEMETERY MEMORIAL DAY FLAG PLACEMENT
All Cub Scout Packs, Boy Scout Troops, Venture Crews, Explorer Posts, and Scouting families are invited to participate in the annual flag placement at Calverton National Cemetery on Saturday, May 25, 2019. Calverton National Cemetery is off of Route 25 in Calverton, NY. The event begins at 9:30 a.m. when units, at their pre-assigned areas of the cemetery, place U.S. GRAVESITE FLAGS at each grave to recognize and honor our military men and women. At 11:00 a.m., following the placement of flags, all Scouts and families are invited to participate in a short ceremony and enjoy refreshments. Units are expected to return the following Saturday, June 1, at 9:30 a.m. to remove the flags and place them in bundles for storage for the following year.
This event is sponsored and coordinated through The American Legion Pearl Harbor Memorial Post. For more information, contact the Suffolk County Council Service Center at 631-924-7000 or Frank Bailey, Council Calverton Memorial Day Chairman at 631-732-4529. NO LATE FORMS ACCEPTED AFTER APRIL 15th.
| File Name | Description | |
| --- | --- | --- |
| Calverton Flag Placement | This form is due by April 15, 2020 to insure your unit will receive a section. | Download |