Family Fun Day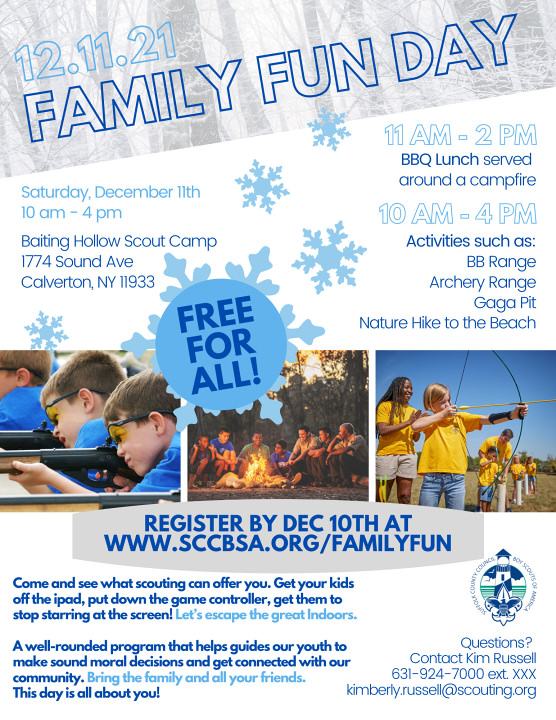 Date/Time:
Dec 11, 2021 10:00 am to 4:00 pm
Location:
Baiting Hollow Scout Camp
1774 Sound Ave
Calverton, NY 11933
Location Phone: (631) 727-1614

Scouting Family Fun Day
Come join us to learn more about Scouting. It's time for youth to get off their ipads, put down the game controllers, and get outdoors. Its time to escape the indoors!
Scouting provides character education programs that guide and build leadership skills in youth to prepare them for life. Scouting encourages youth to live by the values of the Scout Oath and Law and to be of service to one's community. We encourage families to join us on December 11 to learn about all the great Scouting opportunities in Suffolk County while participating in some Scouting activities.This event is for families currently not registered who want to learn more about Scouting. Scouting is for both boys and girls. There will be opportunities to find out about units in your town and sign up.
This event is open to all Suffolk County families who have youth between the ages of 6-18 years of age. Activities are geared toward youth 6-12 years of age and for both boys and girls.
Date: Saturday, December 11, 2021
Time: 10am-4pm
11am-2pm BBQ by the Campfire
10am-4pm : There will be BB shooting, Archery, Nature Hike to the Beach (45 mins to the beach and back),
and Gaga Pit!
Please sign up below so we can be prepared. Thank you.
| File Name | Description | |
| --- | --- | --- |
| Family Fun Day | | Download |