Matinecock Summer Merit Badge Program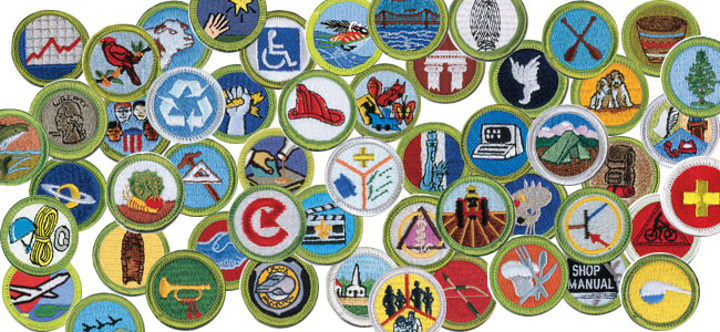 Session 1: Wednesday July 6th & July 13th
Session 2: Wednesday Aug 3nd & Aug 10th
6:30pm – 9:00pm
Scouts must attend both classes in the same session
Uniform is required.

Pre-registration is required. "No Walk-ins "

Scouts must arrive with a Blue Card signed by your Scoutmaster
Suggested donation to the church $10 and /or Food donations to the pantry
Scouts need to bring, pencils, paper and any materials required for the merit badge. A merit badge book will be very helpful. A parent / guardian must sign each scout out of every session day.
If a class does not appear on the registration form that means it's full
July Registration Form CLOSED !
Please note space in some merit badge classes will be limited age and rank may be prioritized. Sign up early.
Contact Marc Gaudioso at BSAmarc@optimum.net
Current Classes <more may be added over time>
New classes will be added at the bottom of the list.
July Classes
Badge
Size
Councilor
Prereqisits
*Citizenship in the Community (requires Dates in July and August)
30
Janet Heller-Smitelli


July 6th, August 3rd, August 10th at St Hughs of Lincoln Church and July 21st Meet at Suffolk County Legislature from 12:15 to 3:00pm.

Plese see the following documents for important information

Citizenship in the World

24

David Hunt
Electricity
20
Paul Merget
Emergency Prep
20
Don Ghee
Family Life
20
Chris Casalino
Family Life has many parts that need to be done with the Scout's family, plus a 90 day chore chart. This is a way to earn a "partial", you may reach out to the counciler to complete as needed.

Requirements #4 & #5 involve physical projects to be done at home/with family. I can brainstorm ideas with the group but they may need more than 1 week to be

Requirement #3: the group can start this prior to the session or we can discuss chore ideas and they can complete the chore chart at home. Either way, it's a 90 day chore chart so they wouldn't be able to complete it by the end of the summer session.
Indian Lore
25
Marc Gaudioso
First Aid
10
Jen McRae Fitzsimmons
August Classes
Badge
Size
Councilor
Prerequisit
American Heritage
5
Rich Wisnewski

4 A and B. For B, find and photograph a historic marker then research it out for discussion.

5. with parent's permission, watch 2 of the following movies: The Patriot; Gettysburg; Lincoln or 1776

American Buisness
15
Chris Daniel
Citizenship in Society

5

Class Full

Brian Ruggeberg


"Sessions will start promptly; please be on time and plan to be an active participant
Please bring: notebook, pen/pencil, completed blue card, and Citizenship in Society workbook
Please prepare answers to Requirements 1 – 3 in advance of Session 1, so we can discuss and maximize our time"

Citizenship in the World
24
David Hunt
Priority will be given to scouts over 13
Electricity
20
Paul Merget
Emergency Prep
20
Don Ghee
Family Life
15
Chris Casalino
Family Life has many parts that need to be done with the Scout's family, plus a 90 day chore chart. This is a way to earn a "partial", you may reach out to the counciler to complete as needed.

Requirements #4 & #5 involve physical projects to be done at home/with family. I can brainstorm ideas with the group but they may need more than 1 week to be

Requirement #3: the group can start this prior to the session or we can discuss chore ideas and they can complete the chore chart at home. Either way, it's a 90 day chore chart so they wouldn't be able to complete it by the end of the summer session.
Indian Lore
25 Marc Gaudioso
Law
15
Brian Kennedy
Music
8
Debbie Peltz
Bring your instrument