Matinecock Virtual Cub Fun Day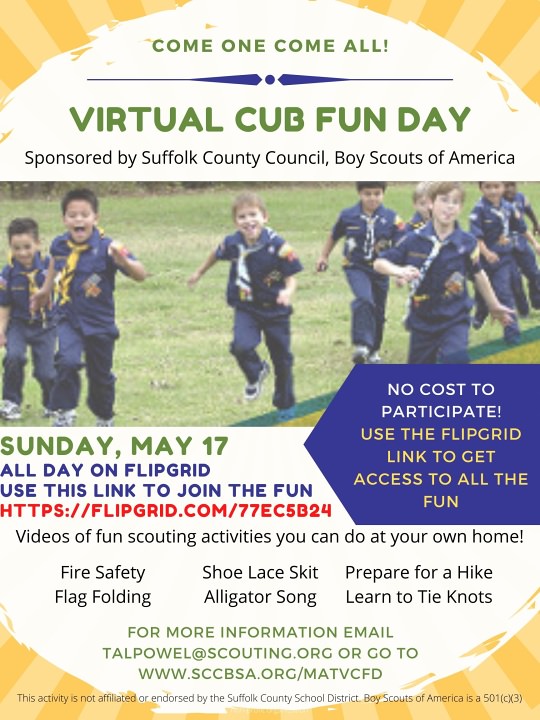 Date:
May 17, 2020
Location:
Online
Cyber Space
The Internet, NY 00000

May 17th- All Day on FlipGrid!
Click on the link below to see videos of our scouts showing different activities you can do outside with your family! It is a Cub Fun Day at the comfort of your own home!
Check out the Packet below!!
Due to COVID-19 and stay-at-home orders until May 15th, it was too close to our Manor Farm Field Day that we had to turn it into a packet in order to oblige our Governor's order. The packet contains lots of fun activities for your scouts to take part in. There is coloring, snacking, physcial fitness, and science challenge where a scout has a chance to win a $25 Gift Card to Target. The last date for submitting your scout's results in on June 1st, 2020. You can do the packet any time. You don't have to start on May 17th.
I hope your scouts enjoy and have fun. Please remember to take pictures or videos of your scouts doing these activities. I will be posting the pictures on our Matinecock E-Newsletter, Quaran-Times. I will be using the videos on our brand new Scout TV that is in development. If you do submit pictures and videos, please sign this BSA CONSENT FORM and send it with your submission to: taliesin.powell@scouting.org
Have fun and Good Luck!