2023 Popcorn Kickoff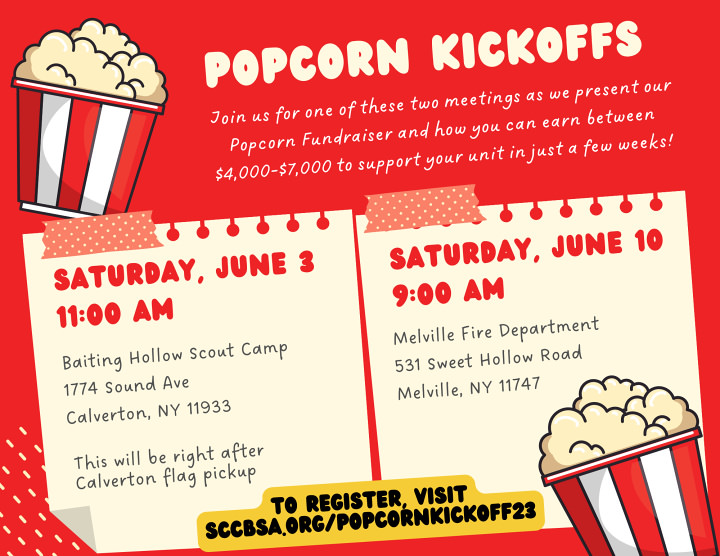 Date/Time:
Jun 3, 2023 11:00 am to 2:00 pm
Location:
Baiting Hollow Scout Camp
1774 Sound Ave
Calverton, NY 11933
Location Phone: (631) 727-1614

Join us at our camp dining hall for a informational breakfast for Trail's End. We will be discussing all the new details and changes for the fall fundraiser. Being that it is the same day as Calverton Flag retrieval we welcome all scouts to join us as well!
The popcorn fundraiser has never been easier. Trail's End began setting up storefronts reservations for the units so unit leaders no longer had to try to speak with store managers themsevles. The app is more user-friendly and capable than it's been in the past. We'll show you how your unit, with just a few weekends worth of work, can earn back your unit between $4,000-$7,000. There is no commitment to attending this brunch, just your time and an open mind.
SCCBSA will be holding two Popcorn Fundraiser kickoff. You can attend any of the two to earn your unit's incentive:
June 3rd, 2023 @ Baiting Hollow Scout Camp - 1774 Sound Avenue, Calverton, NY 11933
June 10th, 2023 @ Melville Fire Department - 531 Sweet Hollow Rd, Melville, NY 11747