Scouting For Food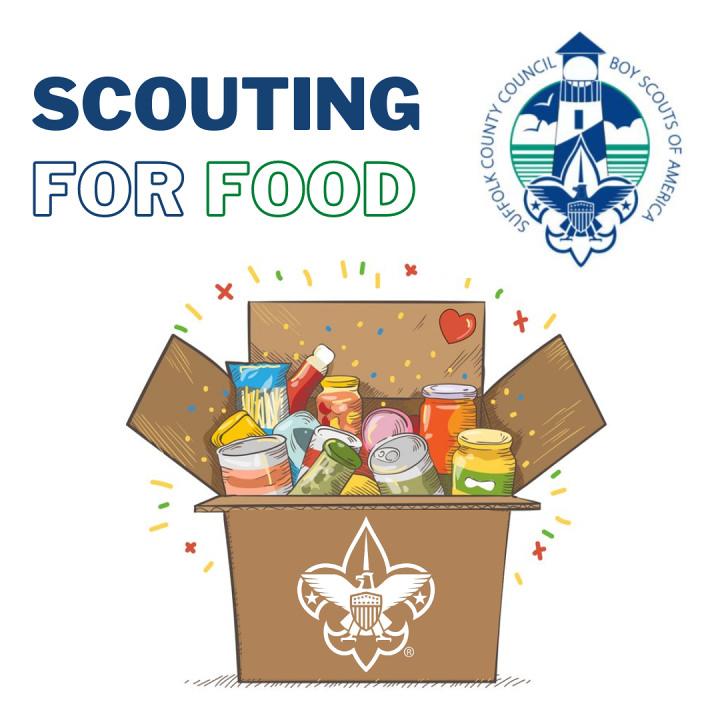 Our annual food drive is here! Scouting for Food is a year long program where Suffolk County Scouts host a food drive to support their local communities and donate to their local pantries.
Please fill out the form below. Let us know how much food your unit collected and where it was donated.
---
WHAT FOOD CAN BE DONATED?
Please no expired, perishable, frozen or glass items.
Canned Goods- Meats, Tuna/salmon, Soup, Vegetables, Fruit, Pasta, Beans.
Snack Food- Nuts, Granola bars, Cookies, Crackers, Jell-o Pudding.
Dry Goods- Pasta, Macaroni & cheese, Rice, Pancake mix, Cake mix, Hot cereal, Cold cereal.
Misc. Items- Peanut butter, Jelly, Juice, Ketchup, Tomato sauce, Shelf stable milk.
Household Items- Cleaning supplies, Laundry detergent.
---
Why Didn't Our Unit Get A Scouting For Food Ribbon Last Year, 2020?
If you didn't get the 2020 Scouting for food ribbon, it means we didn't receive or hear about your food drive. There is still time. Email Gina Carson, the contact on this page, with your unit #, how much food you collected in pounds (lbs), and where you donated the food. We will send you out your ribbon immediately.
---
How do I pick up my Scouting for Food bags and Door Step flyers?
They will be readily available for pick up starting on Monday, February 8th, 2021 at our Council Office (SCCBSA):
7 Scouting Boulevard, Medford, NY 11763
To make sure that we have enough in stock for pick ups, please email Gina Carson to let us know that you will be coming to pick up the flyers and bags.
You can always print up your Scouting For Food Door Step flyers here! Click the link below:
---
Scouting for Food reporting form below: