Scout on Suffolk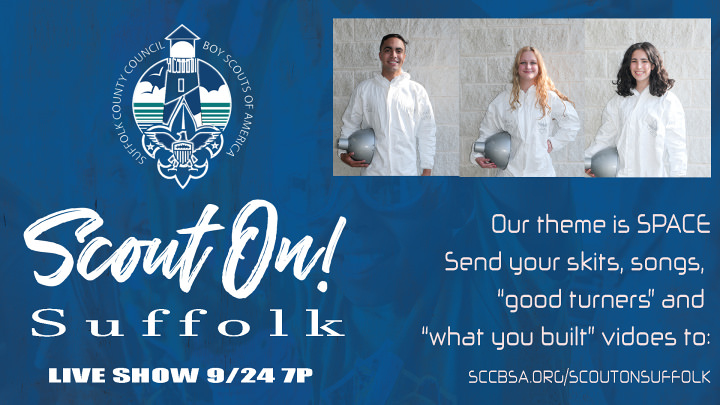 Date/Time:
Oct 22, 2020 7:00 pm to 8:30 pm
Location:
Live Video - Isnpirence
https://www.inspirencestudios.com/live-video
New York, NY 11763

Cub Scouts, Scouts BSA, Venturer's and Explorers,
Check out our show from Thursday, September 24. It was about 30 minutes and filled with fun. Watch it here.
Our next show will be October 22, 2020. In a safe manner, please submit your skits, songs, jokes, and cheers to our dropbox folder. Click here to submit.
Here are the guidelines/bounds and recommendations. The presentations will be embedded in a show format, so all submittals will be reviewed prior to presentation to ensure quality content.
Keep the skits and songs to 2 minutes and cheers/jokes to about 30 seconds.
Resolution Quality:

High: 960x540 / 854x480 1200 - 1500 kbps;
HD 720 1280x720 1,500 - 4,000 kbps
HD 1080 1920x1080 4,000-8,000 kbps

When performing skits, the audio quality is going to important, be sure all spoken words can be understood on playback
Lighting – if shoot in a well-lit space the image quality will be better, so unless you need a dark scene for cinematic effect turn the light up or shoot outside
Only use First names of scouts – no last names.
"What Did You Build Challenge" Send photos, videos of what got built during COVID.
See the show LIVE HERE
---
Meet our Campfire Hosts down below
Scout 1 - Karla, Scouts BSA troop 539G Senior Patrol Leader,Ship 270 Yeoman, Star Rank, NYLT Staff
Campfire Position: Host
Favorite Memory: Winter Camp 2020, Advance Baton Twirling, Color Guard and 16U Travel Softball
I hope to be apart of the army and be an ASL Interpreter in the future 🤟
Scout 2 - Keira, Scouts BSA Troop 218G, Chaplins Aid, Second Class, NYLT Staff
Campfire Position: Host
Fav Memory: 14 mile backpack on AT, Competitive Kick-line Dancer
I want to be happy, healthy, and successful when i'm older
Scout 3 - AJ, Troop 204 Assistant Senior Patrol Leader, Crew 161 President, Crew 333 Vice President, Eagle Scout, NYLT Staff
Campfire position: Camp Promo Guy
Favorite scout memory: Philmont 2019 , Miller Place Badminton
I want to be a mechanical engineer in the near future
Scout 4 - Bradley, ScoutsBSA Troop 80 Junior Assistant Scoutmaster, Eagle Scout, Montauket Chapter OA Vice Chief, NYLT and Outdoor Ethics Staff
Campfire position: Program/Host
Fav. memory: 2 Adirondack Canoe Treks, I want to be a chef when I grow up
Scout 5 - Jo, Troop 125 Junior Assistant Scoutmaster, Eagle Scout
Campfire Position: Youth Leader
Favorite Memory: Working Towards Grandslam, Commack High School Lacrosse Captain and Starting Fencer
I want to be the POTUS or a Navy Seal in the future
Scout 6 - Mike, Ship 270 and Troop 125, Life scout
Campfire position: Youth leader
Favorite memory: Florida Sea base, Sports: Soccer and fishing
I hope to join the United States Coast Guard