Andrew McMorris Memorial Walkathon & 5K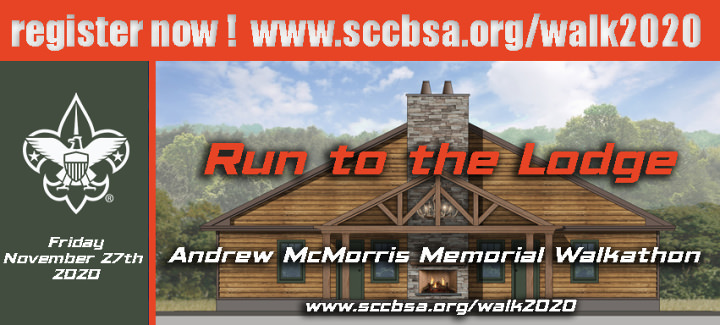 Baiting Hollow Scout Camp
In conjunction with the McMorris Family, the Suffolk County Council of Boy Scouts will hold the Andrew McMorris Memorial Walkathon/Run on Friday, November 27th, 2020.
The McMorris Lodge construction at Baiting Hollow Scout Camp is moving along but we need funds to finish the lodge and complete the loft area and to supply the necessary furnishings. Funds raised will go first to the McMorris Lodge, the Andrew McMorris Foundation (https://www.andrewmcmorrisfoundation.org) and the Suffolk County Council of Boy Scouts.
The routes will be the same for runners and walkers and is 5K (3.1 miles) in length covering various trails within the camp ending in front of the McMorris Lodge.
Participant Start Times:
7:30 – 8:45 AM: Registration
8:45 AM: Warm Up
9:00 AM: Timed Runners
Casual Runners & Walkers will line up behind the serious runners.
Our Walkathon is a rain or shine event, so be sure to dress appropriately.
All runners/walkers gathering sponsorship pledges/payments should print out a Donor Sponsorship Form here.
Corporate underwriting and sponsorship opportunities are also available. Click here for more information.
More details can be found on our printable FAQ page.
Use the form below & REGISTER TODAY!!